They are a little late, but Black conservatives have just figured out there actually was a peculiar institution in America called slavery and to their credit they don't much like it.
Because all the slave masters were liberal Democrats and their allies on the Congressional Black Caucus want to keep Blacks as slaves.
Did you know that Barack Obama has an agenda against Black Americans?  It's true!   Thank God for the Black conservative to tell the rest of us what we're too dumb to see for ourselves!
Sean Hannity invited some of his closest Negro friends over for "a special town hall meeting" where Hannity and a group of Black folks that think just like him (and when they don't they keep it to themselves) sat around and sniveled  about being the Rodney Dangerfield of politics and why, oh why don't they get no respect?
Among Hannity's Pet Negroes were Star Parker, Jesse Lee Peterson, Rev. CL Bryant,  Bishop Council Nedd II, Crystal Wright, David Webb,  Ron Christie, Karl Miller, Deneen Borelli and a bunch of other Special Black Friends I've never heard of.
Oh yeah.  Uncle Ben Carson was there.  When isn't he there with Hannity?   Does  Hannity carry Carson around in his pocket or  on a leash?
I miss that old-time religion of Black conservatism which looked down in disapproval on liberal White guilt.    We have an entirely new pack of victim cards but it's the Black conservatives shuffling from the bottom of the deck.    With Hannity coaching them on these "Frederick Douglass Republicans" complain, gripe and cry–literally–about the White liberals making their lives hell as they suffer the rhetorical lash with Carson being their Mighty Mandingo warrior refusing to bend the knee or be broken by his Left-wing tormentors.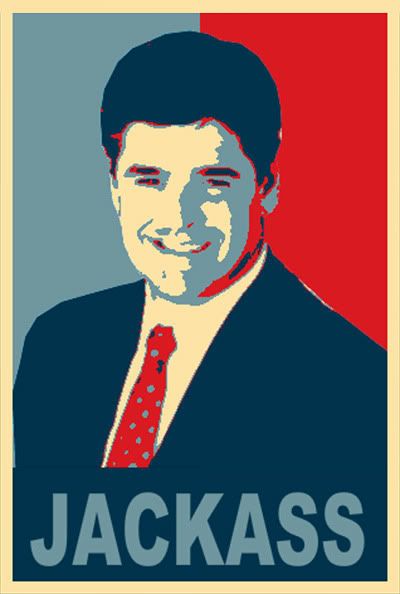 Pity the poor put-on Black conservative.  They live such a hard  knock life.  I'd cry about it if I could only stop yawning.  They just don't get it.   It's not that every other Black person has been brainwashed to reject most conservative dogma.   It's more that Blacks have looked at the policies, practices and personalities advancing the Right's agenda and rejected them as pretty scary stuff.
It's a sad sight to watch  a group of middle-class Blacks  acting like whiny-ass kids and complaining how nobody likes them except Good White Folk like Sean Hannity.     It's  embarrassing  to see  supposedly articulate, proud and respectable Negroes  pile over each other pandering  for  Hannity's approval.    Oooh! Oooh!  Call on me, Mr. Hannity.  I think Obama sucks too!
The Sean Hannity whose softball interview "style" (he has no background in journalism) was on full display when Trayvon Martin's killer, George Zimmerman told the Fox News talking head he had "no regrets" and the shooting of the unarmed teen was "God's will."   The Sean Hannity who has all but appointed press spokesman for Zimmerman.   The Sean Hannity who palled around with White supremacist and Neo-Nazi Hal Turner.  The Sean Hannity who now declares "I am not a racist."  THAT Sean Hannity?
Where is the spine of these  Negro conservatives who say Obama is "waging a war' against Black Americans yet say nothing about the Republicans waging its own war to disenfranchise African-Americans voters.     They can ding liberal Whites for trying to keep them in their place, but they get mighty quiet when anyone points out to them how race still matters, how so many of the Blacks they consider brainwashed by the Left catch most of the hell from the Right.
Even the few sensible views expressed by the Black conservatives is undermined by the presence of reverse-race hustlers like Peterson and Parker whose primary reason to exist is to kiss a lot of conservative White asses and dance a jig for their entertainment.
What ultimately makes Black conservatives such as those that gathered on Hannity's program so utterly useless is they are so eager to reassure their patrons they will faithfully attack all things liberal even as they ignore prior bad acts of bigotry by conservatives.    They whisper sweet nothings into the ears of White conservatives of tax cuts and opposing Obamacare while  they say nothing about economic inequity, mass incarceration  and the prison industrial complex,  unemployment,  substance abuse,  voter disenfranchisement or any of the other ills peculiar to the Black community.    Those issues don't interest their patrons so they don't interest Black conservatives either.   They'll talk about their faith and belief in God, apple pie and the flag, but they won't ask the tough  questions because they don't want to unnerve and discomfort the Sean Hannitys of the world that give them a forum.
The cowardice of the Black conservatives who only gripe, bitch, moan and complain about White liberals while refusing to use their vantage point to call to account White conservatives only reinforces what was already clear.    These are nothing but race hustlers of a different political stripe and they are useless to anyone but insincere idiots like Hannity who uses these content coloreds to claim, "See, I'm not a racist.  I love Black people.  As long as they are Black people who agree with me."
Black conservatives will never receive the respect they feel they don't get as long as they are content to serve as beards to the White Right desperate to hide their own troubled racial past  while they try to create Carson into the Anti-Obama.     Good luck with that.  Real "Frederick Douglass Republicans" aren't afraid to speak the truth to power even when its the powerful who looked upon them with favor.
These aren't speakers of truth.   These are just well-dressed parrots repeating what they have already  heard.
Related articles
If I wanted to waste the time, I could fill up my blog with posts of nothing but updates of the Stupid Stuff Black Conservatives Say.
Rep. Allen West (R-Fla):  "You have this 21st-century plantation that has been out there, where the Democrat Party has forever taken the black vote for granted. And you have established certain black leaders, who are nothing more than the overseers of that plantation. And now the people on that plantation are upset, because they have been disregarded, disrespected, and their concerns are not cared about."
"So I'm here as the modern-day Harriet Tubman, to kind of lead people on the Underground Railroad, away from that plantation into a sense of sensibility."
Star Parker:  Our black president is a traitor to his race. Our struggles put him in power and now he's not taking care of his folks.
Herman Cain:  "I am an American Black Conservative, an ABC and proud of it!  I won't stay on the Democratic plantation like I'm supposed to."

Jesse Lee Peterson:  The NAACP is no different than the KKK in that the KKK harmed black Americans by their physical bodies, but the NAACP steals their hearts and minds and souls. And they kill black Americans by making black Americans or causing black Americans to hate their country, to hate what's right, to depend on the government rather than depending on themselves.
I would be amused by a sellout like Allen West comparing himself to Harriet Tubman if I wasn't so sickened by his fawning smooching of any White conservative ass in reach.   West is the kind of happy house Negro whom if Harriet Tubman tried to show him the way to freedom he would go running in the other direction back to Massa's loving arms and stinging whip.
But this is what ABC's as Cain described his pathetic little clique of Negroes Behaving Foolishly specialize in.  They make White conservatives feel good about themselves.  They blame Black people for their sorry lot in lives and they love to talk about plantations and slavery.  If any of them had been slaves they would have been up in the Big House hoping for Mister Charlie or Miss Ann to brush off some table scraps they could fight the dogs for.
Have you ever heard of "a beard" used as a slang term? It's typically used by someone concealing their same-sex orientation by dating or even marrying someone of the opposite gender. Rock Hudson, Elton John and other gay men who were pretending they weren't used women as their "beard."
There are Black sellouts like Republican presidential candidate Herman Cain who proclaims, "To all of those people who say that the Tea Party is a racist organization, eat your words" who serve as "beards" to the White Far Right.  The predominantly White and conservative types who make up the Tea Party eagerly seize upon the presence of the paltry few Blacks who agree with them to proclaim, "See, we can't be racists. Herman Cain says we aren't!"
This is essentially defending yourself from accusations of race-based bigotry by grasping for the thinnest of straws. You're okay because a member of the minority your offending says you are. Opportunistic hustlers like Cain are happy to be bussed in, given a prominent speaking spot and paraded about as conspicuously as possible. Black folks at Tea Party protests are like the lone brother hangin' out with his three or four White buddies in beer commercials.
American Black Conservatives love to thump their chests and boast how they are freed from "the Democratic planation."  Seems to me though all they've done is trade one Massa for another.  They never question or challenge conservative orthodoxy.   They simply parrot the same rhetoric as any other right-winger.  Issues of race, poverty, unemployment or any other issue of concern to many African-Americans, never concerns them.  So when someome like Star Parker calls President Obama a "traitor to his race" how can anyone take her seriously.  All she does is sell-out and betray Black people as she panders to White conservatives.
Cain, West,  Parker, Peterson and the rest of the Negro right-wingers rushing to give cover to the contemporary conservatives of the Tea Party are as important to them as the Black maids were to the White women of the segregated South. They are modern versions of "The Help."